Definition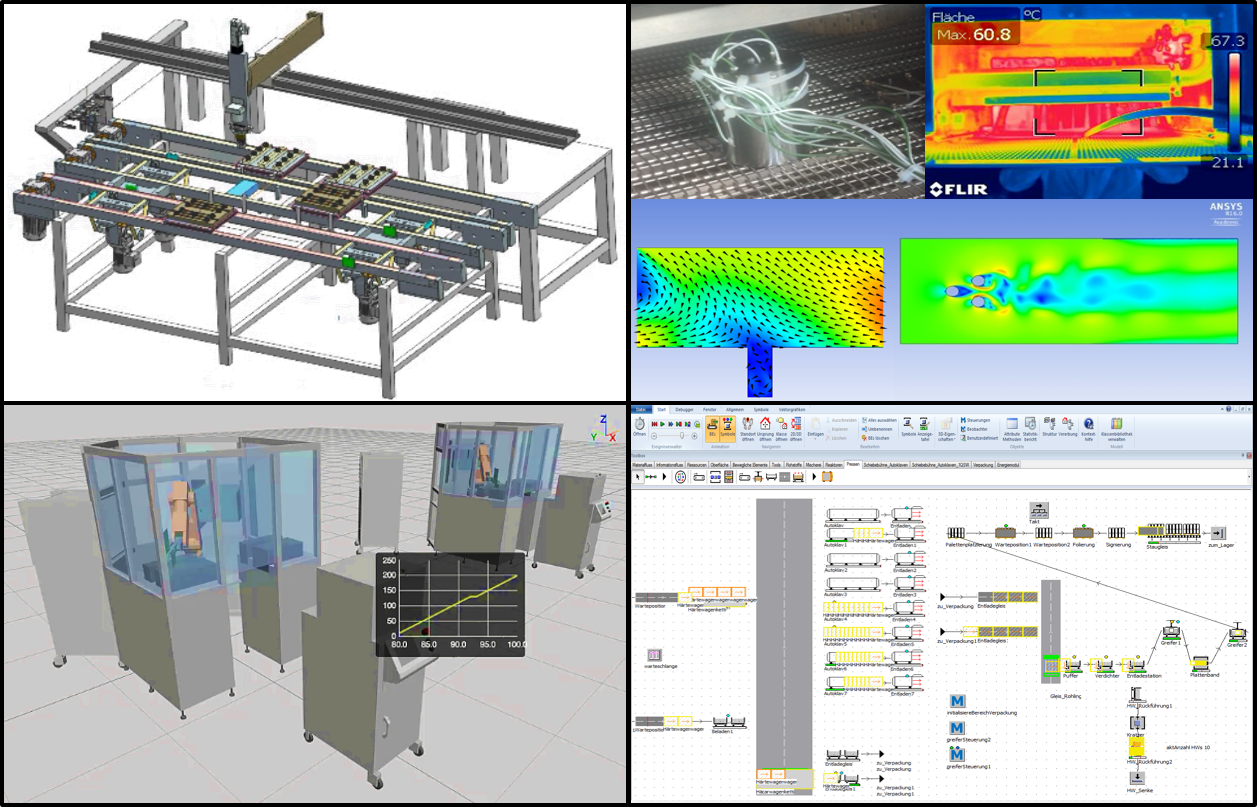 ‪
The technology field "Planning and Simulation" bundles group-wide the chair competence regarding the used planning and simulation software. The software range extends from the design and physical simulation of individual components through integrated engineering to integrated material flow simulation and factory planning.
Industrial production facilities and mechatronic products are becoming increasingly complex, which minimizes investment risk, shortens implementation time, and requires comprehensive review of behavior. In addition, the market situation requires ever more rapid adaptation to customer requirements and thus requires high flexibility of the production systems due to their volatility. Digital planning and simulation systems form a functional basis for these and other challenges, which must be extended to meet the higher requirements for adaptability and integra- bility in the context of Industry 4.0.
In various fields of application in the field of production, the technology field Planning and Simulation investigates the coordinated use of diverse software tools as well as their integration into existing systems and tests them in a number of real applications of the research groups. In addition to the detailed planning of systems and test setups using integrated engineering tools and process / kinematics simulations, this also includes process simulations with which the behavior of complex systems can be analyzed and optimized during operation. In addition, investigations at the process and component level are gaining in importance, allowing optimized process design taking into account and combining different physical effects.
Vision
All research topics in the area of ​​technology field aim at the orientation and extension of generic software solutions for an integrated use in concrete processes or systems. Accordingly, existing tools are to be supplemented with appropriate functionalities so that they can function as a digital twin based on an integrated data model for the entire product life cycle of a mechatronic product / system. In the long term, this will make closed-loop manufacturing feasible at the factory level.
Focus areas
Product design
Plant Engineering
Line design
Manufacturing planning
Magnetic field simulation
Thermal simulation
Mechatronic simulation
Thermodynamic simulation
Optical simulation
Finite element method
Computational Fluid Dynamics
Kinematics simulation
Ergonomics simulation
Material flow simulation
Energy Simulation
CAD, MCD, ECAD
PLC programming
Virtual Commissioning
Head of technology field
Members