Definition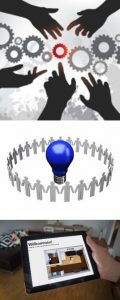 The field of cooperation and communication combines interdisciplinary and interdisciplinary knowledge about communication at the chair and the work between the research groups. Modern communication methods, web technologies and web paradigms are used to facilitate the collection, documentation and dissemination of knowledge for the purpose of efficient (re) use. In addition, the user / customer perspective is integrated into the development process to increase acceptance.
Vision
Strengthen cooperation and communication at the FAPS Chair using web technologies and web paradigms in the following areas: 1. between the scientific disciplines 2. between developers and end users; and 3. between the research groups.
Focus areas
Web 2.0
Open Innovation
Knowledge management
User Experience
DMS
CMS
Enterprise 2.0
Market research
User Interfaces
Start Ups
Online Communities
Interoperability
Engineering plattform
Contact
We could not find any entry with the given search term 1198.
Members