The Institute for Factory Automation and Production Systems actively promotes the technology-oriented foundation of young companies. On the one hand, the business ideas can arise from the research work of the FAPS and the founders can be formed from the ranks of the scientific staff. On the other hand, student start-up teams are also welcome, if they want to start their own business in the diverse technology areas of the FAPS.
FAPS-X offers a fertile ground for the start-up activities at the chair and supports founders in all phases of the company development, whereby special emphasis is placed on the compatibility of doctoral studies and company creation.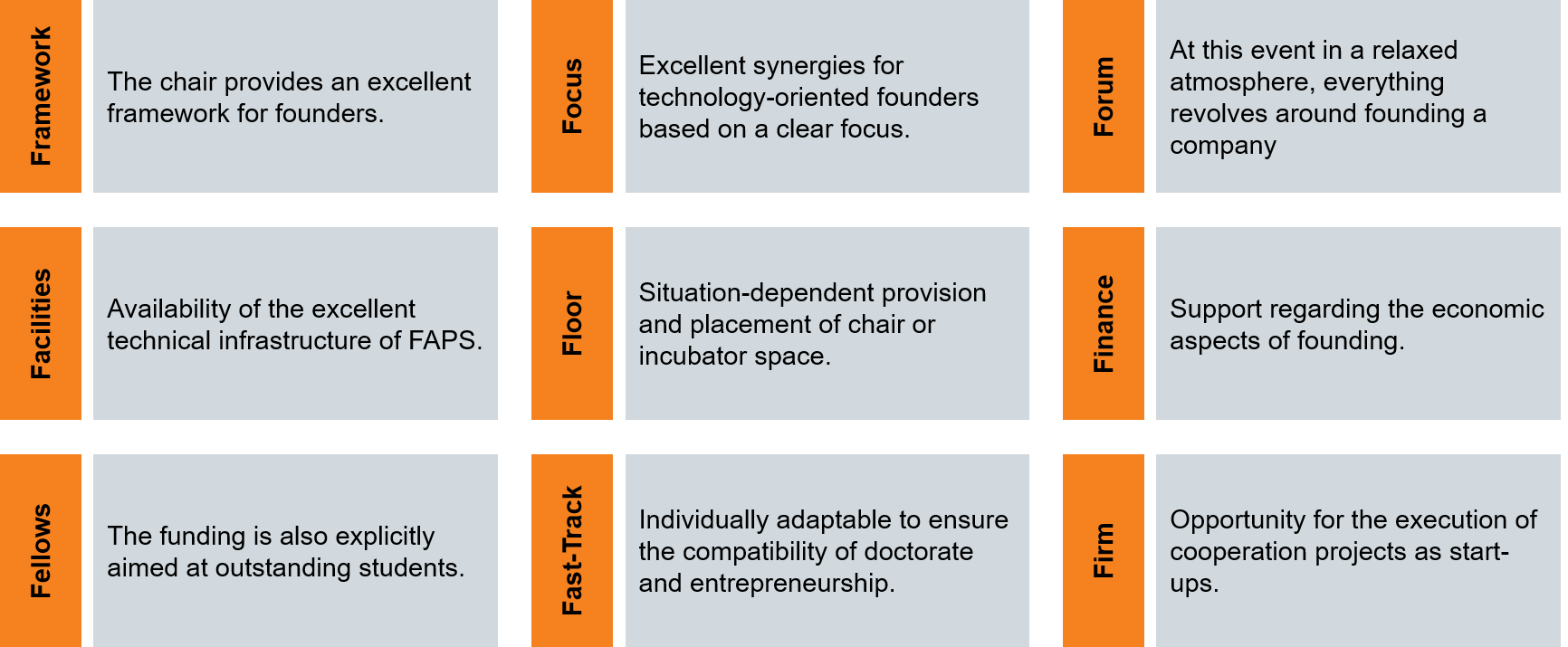 During the realization of their business idea, the founders benefit from the following services:
Framework
The chair FAPS offers excellent conditions for founders:
Motivating and inspiring environment consisting of founders, researchers and students with strong industry contact.

Experience exchange and mentoring program with professors, alumni, industry contacts, investors, etc.

Mutual support: exchange of equipment and technologies, mutual mediation of contacts, job pool
Focus
Technology-oriented founders find excellent synergies through clear focus:
Knowledge bundling through technology fields such as mechatronics, AI and ML, simulation, robotics, additive manufacturing, energy efficiency etc.

I

ndustry focus through research areas on for example automotive, mechanical and plant engineering, automation technology, medical technology, smart living, energy technology, etc.
Primary focus on business-to-business concepts
Forum
In this event in a relaxed atmosphere, everything revolves around the topic of start-ups:
Inspiring and informative keynote speeches by external consultants, founders or investors
Presentation and discussion of start-up ideas by alumni, employees, students and others
Information on current calls, funding and training opportunities
Networking and discussions to promote the start-up culture at the chair
Facilities
The excellent technical infrastructure of the FAPS is available:
Extensive IT infrastructure with a large number of powerful computers, a wide range of engineering and software development tools.
Modern facilities for parts manufacturing, assembly, electronics production and 3D printing for rapid prototyping and, if necessary, also for the launch of small series
Specialized laboratories (materialography, electrical engineering, microscopy, reliability, etc.) for analysis and qualification of materials, processes and products
Floor
Situational provision and arrangement of chair or incubator space:
Use of chair office space for own needs as part of an EXiST grant.

Setting up own machines on the chair's hall space within the scope of an EXiST grant

Possibility to rent inexpensive incubator space in the NKubator at the FAPS location "auf AEG" in Nuremberg
Finance
Support of the economic aspects of the start-up:
Advice on financing options and referral to potential investors

Support in applying for public funding (e.g. EXiST)

Takeover of administration and accounting within the framework of EXiST funding
Fellows
The start-up support is also explicitly aimed at outstanding students.
Fast Track
Individual adaptation to ensure compatibility of doctoral studies and founding:
Focusing of research topics in relation to technology-oriented start-ups

Possibility for flexible part-time employment

Possibility to generate start-up-related revenues in part-time employment
Firm
Requests from industry, for which the special know-how from the university is required, but the cooperation with a private company is necessary, can be fulfilled by setting up a start-up:
Research (e.g. development of processes, machines or software) within the framework of a cooperation project with the FAPS; mediation of inquiries and potential founders by FAPS-X.

Professional support, maintenance and further development by Spin-off Company

Long-term close cooperation between company, spin-off and FAPS, e.g. in the context of publicly funded research projects, supervision of student work and joint publications