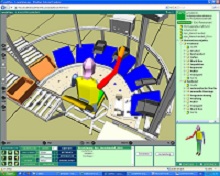 Industrial manufacturing equipment is becoming more and more complex. Furthermore, investment risk and implementation time must be minimized. Due to these challenges and requirements, new planning and simulation systems must be used effectively. In the various fields of applications for production planning, the Engineering Systems research group develops dedicated software tools and evaluates them in a variety of industrial applications.
Detailed planning of automated and manual assembly stations is done by conducting kinematic and ergonomic simulations. In addition, the research group also uses discrete event simulation for analyzing complex systems in the early stage of planning. Furthermore, research at the process level dealing with the possible combination of different physical effects and an optimized process design is becoming increasingly important.
The software solutions developed are applied in the subsequent operation of the production systems for production control, labor utilization and failure diagnosis.
Contact