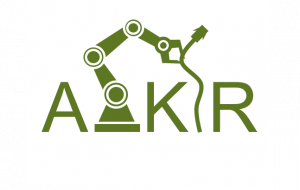 ---
Project description
The wiring harness is an important component for the execution of safety-critical driving functions in autonomous vehicles. Automated manufacturing processes are therefore significant to ensure a high degree of reproducibility, traceability, and cost-effectiveness. However, the automated handling of cables still constitutes a challenge due to the cable's deformable behavior and degrees of freedom. These characteristics result in high requirements for the development of sensors, actuators, and software for automation solutions.
The aim of the project 'Automated manufacturing of safety-critical wiring harnesses by artificial intelligence and human-robot collaboration' (AsKIR) is the development of a robot system with machine learning-based process monitoring and quality control for the automated final assembly of wiring harnesses. In cooperation with the company Abele Ingenieure GmbH, new manufacturing concepts using human-robot collaboration are evaluated and an innovative end effector for the handling tasks inserting and routing of crimped cables is developed.
The institute FAPS is responsible for
the continuous data flow from engineering to production,
the multi-sensor data fusion for process monitoring and optimization of the handling tasks, and
the ML-based data evaluation for quality assessment of crimped wires and end-of-line quality inspection.