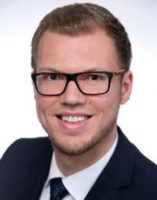 Markus Lieret has been a member of the research department Biomechatronics since July 1. He graduated from the Mechanical Engineering (M.Sc.) program at the FAU Erlangen-Nuremberg.
Already during his studies, he supported the research activities in the field of biomechatronics at the Chair of FAPS by completing his bachelor thesis. In this context, he built a test bench to measure the efficiency of dielectric elastomer actuators. Within the scope of his master thesis, which he also completed at the chair, he dealt intensively with the human-robot-collaboration and developed an innovative collision avoidance system for standard industrial robots.
In the course of his research, Mr. Lieret will be active in the employment of unmanned aerial vehicles in intralogistics and industrial manufacturing.