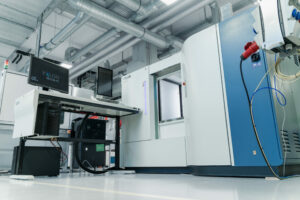 We are pleased to announce the successful commissioning of the Comet Yxlon FF35 X-ray CT at the FAPS. Following the delivery of the impressive seven-ton unit, our staff was trained in the use of computed tomography in June of 2023.
Equipped with a 225 kV microfocus tube and a 190 kV nanofocus tube, this system allows high-resolution 2D and 3D imaging of the smallest microelectronics as well as radiography of stronger material. The maximum sample weight is 27 kg with a diameter of 530 mm and a height of 800 mm. Thanks to a power of 320 W, CT scans can be performed in less than one minute. The nanofocus tube also enables the identification of defects smaller than 1 µm in size on samples smaller than 10 cm.
Three training sessions were held to familiarize our staff with the Yxlon Gemini, Virtual Graphics and Dragonfly software packages. The system will significantly support our research, especially in the fields of materials analysis and process optimization.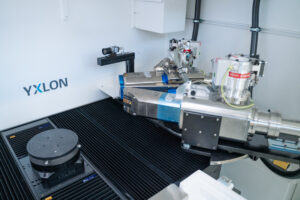 Contact:
Department of Mechanical Engineering
Institute for Factory Automation and Production Systems (FAPS, Prof. Franke)

Department of Mechanical Engineering
Institute for Manufacturing Automation and Production Systems (Prof. Dr. Franke)