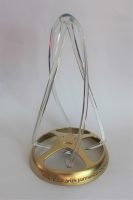 The team of ANAMOS UG (haftungsbeschränkt), a FAPS SpinOff (EXIST project SofTiss Anatomics), was able to prevail with a 3D printed heart model against the other 35 finalists for the Innovation Prize 2020 of the international design competition purmundus challenge. The concept of the model was developed in the cooperative research project "Silicone Biomodels" of the chair FAPS of FAU Erlangen-Nuremberg and Wacker Chemie AG.
The purmundus challenge is one of the most important global awards for design in 3D and 4D printing. The previous winners have set strong trends in these printing processes within the international design industry.
The prizes in seven categories were awarded at a virtual awards ceremony on November 11 at the Formnext trade fair. The purmundus challenge expert jury justified the awarding of the Innovation Prize 2020 to the ANAMOS heart model by saying that "the prize winners have worked on an unusual technology which, in combination with novel 3D printing processes, can help mankind".

The ANAMOS team can now join the ranks of the world's most innovative 3D printing designers. ANAMOS' goal is to open up new possibilities in surgical simulation through a diverse portfolio of configurable 3D models of any anatomy and pathology, and to increase efficiency in different medical disciplines for the benefit of mankind.
Contact: