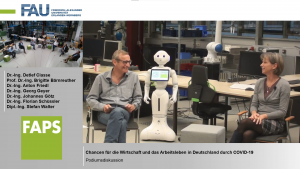 The Institute of Manufacturing Automation and Production Systems organised its Alumni Networking Event (FANE) again this year. However, due to the restrictions imposed by Corona, this was the first time that it was held in digital form. All participants were given access to the live streamed programme items via the conference tool Zoom. In addition, Zulip provided a communication platform for personal exchange. Despite the cancellation of the face-to-face event, over 80 former and active FAPS members took part in the digital FANE. At the beginning they were given the opportunity to gain insights into the current work in a virtual technology field tour. After the annual meeting of the ProNet e.V., an update on the development of the chair in the past year was given by Prof. Franke.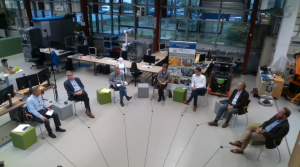 The panel discussion on "Opportunities for the economy and work life in Germany as a result of COVID-19" was the subsequent highlight of the event. Even beyond the FANE, the opportunity for personal exchange via the Zulip platform will remain.
The Chair thanks everyone for their participation and is looking forward to hopefully welcoming everybody on site again next year to numerous events.
Contact: