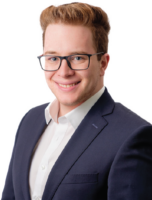 Christopher May joins the Research Department of Robotics as a research associate on October 01, 2023.
He completed the bachelor's and master's degrees in Industrial Engineering at Friedrich-Alexander-Universität Erlangen-Nürnberg. During his academic studies, he contributed to the Research Department of Robotics with his work as a student assistant and through the completion of his bachelor, project and master thesis. His master's thesis focused on modeling and potential determination of hybrid and pure quantum algorithms for solving industrial capacity and scheduling problems.
Within the scope of his work, Mr. May will support the research project POV.OS and work on the development of an innovative automation platform, featuring an open architecture of hardware and software for application and functionalization in mobile industrial machinery.
Contact:
Department of Mechanical Engineering
Institute for Factory Automation and Production Systems (FAPS, Prof. Franke)