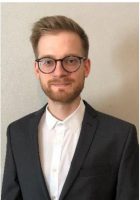 Micha Herbert has been strengthening the research sector wiring systems as a scientist since July 1st, 2021.
He completed the mechanical engineering course at the Technical University of Central Hessen in Gießen. In his master's thesis, he developed a concept for the automatic labeling of electronic components in control cabinets in the low-voltage range.
As part of his research, Micha Herbert will work in cooperation with Rittal GmbH & Co. KG on digitization in switch cabinet construction.
Contact: