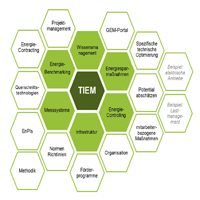 ---
Project description
For German companies, the importance of sustainable economic development in recent years has become increasingly important, mainly because the companies put more emphasis on a clean environment and sustainable development issues. This development is driven by the political decisions such as the planned shutdown of nuclear power plants latest till 2022. Shutting down the nuclear power plants will creates a supply gap, which is to be minimized through early energy infrastructure restructuring. Furthermore, the share of energy costs in Germany has doubled in the past decade. Nevertheless, in order to remain competitive in the global market the efficient use of energy and resources has become a top priority of the manufacturing companies. Here, the focus is not only on the use of renewable resources, but also the energy conservation and the responsible use of raw materials. Efficient use of resources has become one of the primary concerns of the manufacturing companies
Need for action
Various Green Factory Bavaria projects develop solutions for numerous problems but they still lack an integrated approach to implement these solutions in the company.
The German industry pays high sums for energy taxes and EEG surcharge.
Lack of knowledge and transparency lead to a low implementation ration of energy management systems.
Lack of infrastructure for an efficient technology and the accumulated know-how transfer from Green Factory Bavaria to Bavarian industry partners.
Standards for the integration of various software tools designed for resource efficient production are missing.
Project goals
Development of a methodological approach to implement energy management system in the companies.
Methodological optimization of existing systems in terms of energy efficiency.
Development of an integrated web-based energy management tool.
Build an ISO 50001 compliant infrastructure in a pilot company to increase resource efficiency.
Benefits
Transparency regarding the energy consumption of companies.
Sustainable and continuous improvement of energy efficiency.
Enabling ISO 50001 certification.
Significant cost savings in business by reducing the EEG surcharge.
Identification of optimization potentials.
Implementation of a PDCA (Plan-Do-Check-Act) cycle for efficient energy management.
Enable knowledge transfer from Green Factory Bavaria projects in companies.
Innovative contribution of the research
Methodology to efficiently integrate an energy management system
The numerous projects from different research institutions are combined to develop an efficient implementation strategy. For this purpose basic concept would be developed, which can be individually adapted to different companies. This ensures an early recognition of problems and risks within the company relation energy consumption. The modular design of the developed software creates here an intelligent networking, which facilitates the exchange of knowledge amongst each other. The resulting findings can then be incorporated into the further conceptual design of the management system.
Development of an implementation plan for an ISO 50001 compliant infrastructure
To obtain ISO certification, extensive preparation is required, which have been developed in the previous focus theme. These findings will then be incorporated in a structured operating process that embeds the EnMS in the organizational structure to successfully establish the PDCA cycle. Additionally a training process for all employees, workflows and controls for continuous certification would be developed. This implementation plan ensures an efficient and prompt ISO 50001 certification. It is however very important here to pay attention to the individual adaptation to the respective company to find customized solutions.
Development of EnMS software tool for the industry
From the "Totally Integrated Energy Management" concept, a software with a modular structure would be designed. This should simplify and speed up the implementation process. The modular structure allows the quick integration of new knowledge, improved structures, new tools and results of other Green Factory Bavaria projects. This solution concept should be easy to implement in a variety of industries and business and generate the fastest possible certification and related energy and cost savings.
It must be taken into consideration that the developed concept and software tool should equally fit to both, the companies that already have an energy management system and have experience in dealing with a structured environmental management system and efficient environmental policy as well as companies that has no previous knowledge or process in this direction.