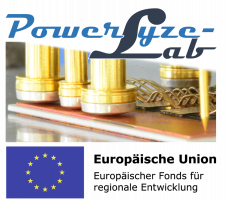 ---
Project description
If we want to successfully advance the energy transition, one component is indispensable in the area of energy generation and use: power electronics. Regardless of whether energy is generated by photovoltaic or wind turbines or used in e-cars, e-scooters and pedelecs, or even at home in heat pumps and washing machines: wherever electricity flows, reliable and efficient power electronics modules are required to vary the voltage, frequency and current. As a module, power electronics is the necessary link between the socket or charging station on the one hand and the battery and electric motor on the other.
One of the goals of the Powerlyze Lab at Friedrich-Alexander-University Erlangen-Nuremberg (FAU) is to exchange technological developments more quickly between the university and cooperation partners from industry and business. In the technology and competence center of the Institute for Automation and Production Systems (FAPS), power electronic modules are characterized and analyzed, for which the European Regional Development Fund (ERDF) is providing around 650,000 euros over a period of three years.
The companies are to be put in a position to adapt their manufacturing processes and products to the constantly increasing demands of the market and to produce globally competitive power modules at the Bavarian location.
The project results are available beyond the ERDF project to all other research institutions and industrial companies for implementation, so that they can jointly contribute to achieving the agreed climate targets and mastering the energy transition. Herr Dipl.-Wirtsch.-Ing. Martin Müller will be happy to provide you with further information.