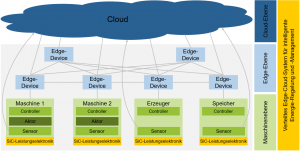 ---
Project description
Increasing digitization and automation enable more efficient processes, perfected quality and optimized use of resources, thereby constantly improving the competitiveness of manufacturing companies in Germany as a high-wage location. However, the increasing use of electrical drive technology and the spread of electronics and sensor technology are tending to lead to a higher demand for electrical energy. For example, the industry and manufacturing sector consume about half of the electrical energy in Germany.
The SiC4DC research project is dedicated to the energetic optimization of automated production systems in order to reduce the energy demand and CO2 emissions of the entire system. In cooperation with the Fraunhofer Institute for Integrated Systems and Device Technology IISB and the two associated partners Siemens and Mercedes-Benz, the consortium, under the direction of the Institute for Factory Automation and Production Systems (FAPS), is researching the following topics in the project:
Application of SiC-based power electronics in automation technology
Use of hybrid AC/DC grids and renewable energies
Fine granular IoT sensor network for real-time detection of energy wastage
Decentralized distributed energy management based on self-learning processes in edge-cloud systems
Internet-based planning, configuration and simulation systems for estimating potential and costs
In the pre-project phase, in order to examine the components of the solution concept, including the development of a comprehensive implementation plan as well as the execution of a potential analysis, in order to implement the SiC4DC concept in the subsequent phase of the innovation competition, SiC4DC is funded by the Federal Ministry of Education and Research (BMBF) with approx. 250,000 € over a period of 9 months.