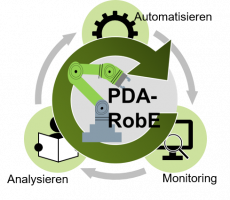 ---
Project description
The PDA-RobE research project (process-driven, continuous and automated robotics engineering) has been funded by the Bavarian Ministry of Economic Affairs, Regional Development and Energy (StMWi) since 1 September 2021 and can be assigned to the "Artificial Intelligence – Big Data" initiative within the BAYERN DIGITAL strategy. In addition to the Institue for Factory Automation and Production Systems, the industrial partners exentra GmbH and Conti Temic microelectronic GmbH are involved in the research project over a period of 3 years. The aim is to develop a process-oriented project management software that guides users through the engineering processes in an intuitive way and at the same time provides relevant tools, services and information at the right time.
Detailed description:
There are many non-automated process steps within engineering and the project management required for its coordination. This situation is very costly, time-consuming and error-prone. The aim of PDA-RobE is therefore to accelerate the transformation from pure management and engineering process documentation and monitoring to automated process coordination and execution in the sense of continous end-to-end engineering or Industry 4.0. For this purpose, approaches from business informatics are transferred to the engineering of robot-based automation solutions or the digital twin. Along a process-oriented workflow management system, a reference architecture and application for engineering will be created, with a focus on the factory life cycle. An engineering project at Conti is used as a use case. The associated management workflows for planning robot-based automation solutions are modelled on the basis of Business Process Model and Notation (BPMN) and executed using a process engine in combination with engineering services. This allows the costs incurred and the time taken for engineering to be sustainably reduced and the quality of the processes to be increased through transparency.
Addressed research topics:
Sustainable, optimised and transparent project management
Process modelling and execution using Business Process Model and Notation (BPMN)
Continous End-to-end engineering using the Process Driven Approach (PDA)
Multi-user collaboration and planning through immersive Extended Reality (XR) services
Support in planning through artificial intelligence (AI)
Centralised knowledge and data management (Big Data)