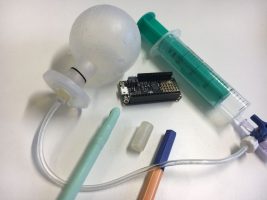 ---
Project description
In Germany, over six million people are suffering with symptoms of urinary incontinence and over a 120 million Euro were spent for absorbent product in a year. For patients, urinary incontinence is not only a physical health problem but also causes mental stress and can significantly impair the quality of life. Especially with regard to the demographic change, the dysfunction of the lower urinary tract is being a bigger medical and socioeconomic issue than ever.
Prevailing incontinence treatment such as pelvic floor exercises and electric stimulation do not always fully cure urinary continence. Invasive methods, such as implantation of pelvic mesh, slings, or cuff-based artificial sphincters are often associated with high risks and complications e.g. urethral erosion.
In our research project funded by Bavarian ministry of economic affairs, energy and technology, we are developing a miniaturized mechatronic device that can be placed in the urethra of insentience patients with the minimized risk. The intelligent implant are designed to substitute insufficient function of the urinary sphincter to help the patients gain back full control over the bladder and thus enhance their quality of life.