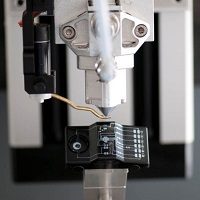 ---
Project description
The conventional manufacturing technology of printed circuit boards is based on the photolithographic creation of planar conducting paths on copper plated dielectric material. Circuit boards with more than two conductive layers are produced by the conglutination of several layers. The individual layers are electrically connected by vias, i.e. drill holes that are metalized in further process steps. The geometry of the vias is determined by the manufacturing method and is not qualified for high-frequency applications.
Manufacturing processes for three-dimensional structures consisting of dielectric and conductive materials can bring substantial progress in the assembly and interconnection technology. The combination of 3D-MID technology with digital printing processes like ink jet printing or Aerosol-Jet printing allow for a high freedom of spacial design and a broad range of substrate materials while decreasing the installation effort. Furthermore, the additive deposition of material in digital printing processes enables the realisation of completely new HF-specific functional structures. Examples are conducting paths with variable cross sections used for non-reflecting terminators, or high-frequency compliant vias without restrictions in the power spectrum.
The project goal is the development of methods and design rules for printing HF applications on 2D and 3D substrates. The focus will be on high-frequency compliant signal paths and functional structures.
Project committee:
Clariant Produkte GmbH, CONTAG AG, CST AG, Heicks Industrieelektronik GmbH, ILFA GmbH, Lüberg Elektronik GmbH & Co. Rothfischer KG, Mitsubishi Plastics Europe GmbH, Neotech AMT GmbH, PLEXPERT GmbH, Pretema GmbH, Seho Systems GmbH, Zollner Elektronik AG