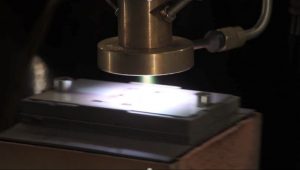 ---
Project description
The production of power modules is facing new challenges: Being able to produce a wide variety of variants in small quantities economically is becoming increasingly important. The FlaMe research project aims to use new technologies and make the process much more sustainable.
With the research project FlaMe , the project partners want to respond to the requirements of the industry to be able to produce customer-specific power modules in small batch sizes economically, with high quality and in an energy-efficient manner. For this purpose, conventional production processes are replaced by highly flexible and fully automated production. This eliminates some energy-intensive manufacturing steps such as soldering furnace processes. Accordingly, less energy is required and the production chain is shortened. Another focus of FlaMe is to use new technologies in the manufacturing process. These include in particular laser-based wire bonding, plasma spraying and 3D printing technology. These enable the energy input to be monitored and controlled in a targeted manner.
Manufacturing high-quality power modules requires reliable and very precise manufacturing steps. When manufacturing several product variants and in smaller quantities, the systems and tools often have to be adapted or converted.
In order to optimize the manufacturing process, the team behind FlaMe therefore wants to use innovative industrial robots and high-precision optical, thermal and acoustic sensors. In this way, the process can be controlled precisely, adjusted more easily and monitored holistically.
With the help of AI-based methods, the researchers evaluate process data and combine them with different sensor signals. The process results can thus be predicted more precisely and product variants can be produced according to the so-called first-time-right principle. Instead of complex mechanical conversions, only software adjustments will be necessary in the future.
FlaMe wants to promote sustainable production and use resources more efficiently
FlaMe should not only make the production process more flexible and energy-efficient, but also help to use and save materials sustainably. Some components of a power module are made of aluminum. The researchers now want to replace this with copper. Copper ensures a significantly higher power density and a longer service life for the power module. Both aspects mean that the number of modules required is reduced overall. This reduces energy consumption both in the extraction of raw materials and in application. After use, the pure copper connections are easier to reuse. The research project FlaMe therefore makes an important contribution to sustainable production and the sustainable use of power modules.