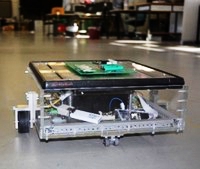 ---
Project description
Within the scope of the research project E|Flow approaches for a cyber-physical material flow system (CPMS) are developed. The main aim is to create a system with economic, flexible, autonomous and swarm-able transport entities which can be uses in highly alterable work environment due to their scalability. Furthermore, the energy-efficience of the prozesses of the intralogistics increase based on the individual execution and path planning of each transport task.
The innovative approach is that the work environment is digitalized by a global, standardized and economic sensor technology and distributed to the transport entities as a word model. Therefore, the common and elaborate registration of the environment by on-board sensors can be substituted. That lead to lower costs for each transport vehicles and a reduction of the total weight. Furthermore, it is possible to react easy and quick to variations of the order quantity with an increase or decrease of the amount of transport units.
Further information to the Green Factory Bavaria can be found here.
Further information to the research project E|Flow can be found here.