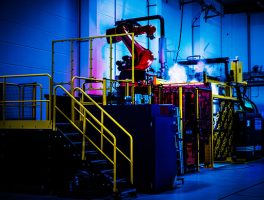 ---
Project description
The adidas Speedfactory is a multi-phase project, which should bring manufacturing capacities back to Germany. Phase 1 was completed in the SEP 2016 and included the production of 1000 pairs of performance sports shoes. Phase 2 started in the first quarter of 2017 and aims at a blueprint for a significant upscaling of the volume, which will take place over the next 5 years.
Local manufacturing offers several advantages, including the approach to consumers, and the ability to react faster to their needs, reducing the lead time to deliver products, more transparency in operations, speed, flexibility, and lot size 1.
adidas aims to develop a digital twin of the Speedfactory to accelerate technology development, commissioning, optimization of production planning and execution.