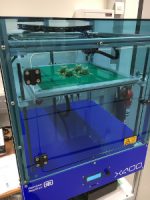 Technical specifications:
Manufacturer
German RepRap GmbH
Type
RepRap X400 Pro V3 (Baujahr 2016)
Technology
FFF (Fused Filament Fabrication)
Size build envelope
(B ∗ T ∗ H)
350 mm ∗ 400 mm ∗ 320 mm
Extruder
2 ∗ DD3 Extruder mit Φ 0,4 mm E3D Messing-Düse
Material
PLA, Soft-PLA, ABS, PVA, Nylon
(Open Filament System, Φ 1,75 mm)
Printing speed
max. 150 mm/s (manufacturer data)
Layer resolution
max. 0,1 mm
Data transfer
via SD-card oder 3DPrintBox
Software
Simplify 3D (Slicer), MeshMagic 3D (Viewer & Editor)
Specials
Dual DD3 Extruder; oversize build envelope, heated print bed
Applications
mechanical end-use parts; rapid prototyping
Contact:
We could not find any entry with the given search term 240.