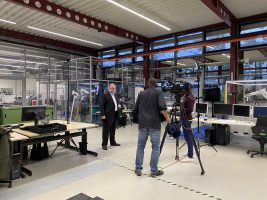 Effects of the Corona pandemic are reaching ever deeper into the leisure time of the unvaccinated. The effects on the workplace in industry are still unclear – BDI President and FAU professor Siegfried Russwurm has a clear opinion on the matter, which he has also expressed in the press.
The Corona pandemic is still on our minds. New regulations have just been passed in various German Länder, which primarily affect the leisure sector. Here – primarily to protect the unvaccinated and to counteract overcrowding in intensive care units – 3G+ and 2G are being introduced.
What impact the rising infection numbers will have on industry and the workplace has yet to be determined. "People have to be able to work together, have to be able to realize things with each other, and that doesn't really work well with a mask and 1.5 distance," said BDI President Siegfried Russwurm, during an interview with Bayerischer Rundfunk. "It simply has to be possible to be vaccinated, for anyone and everyone who is willing!"
Editor and camera and sound staff from the regional studio in Nuremberg recorded the interview for ARD's Tagesthemen in the afternoon of Nov. 3, 2021, in the laboratory hall of the FAPS chair in Erlangen. The environment between the industrial plants, the industrial robot cells and the automated guided vehicles is perfectly suited as a scenery for the interview of the BDI president. Prof. Russwurm used the break of his lecture "The Machine Tool as a Mechatronic System" for his statement. "It is not easy to switch between the topics and the setting, but as a representant of the industry it is necessary to react flexibly to requests and demands, e.g. from the press," said Prof. Russwurm.
Directly after the interview, he started the second part of the lecture and took the students on a journey into the sensor technology in machine tools – and not just theoretically, but vividly using a small machine tool from his own garage.
The Tagesthemen of 2021-11-03 with the contribution of Prof. Russwurm can be accessed in the ARD-Mediathek.
Contact:
Department of Mechanical Engineering
Institute for Factory Automation and Production Systems (FAPS, Prof. Franke)

Leitung
Department of Mechanical Engineering
Institute for Factory Automation and Production Systems (FAPS, Prof. Franke)