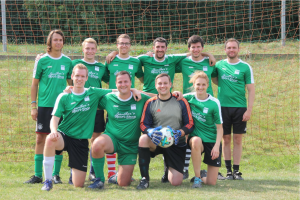 For the fourth time, a team from the chair took on the task of competing with other institutes of the Scientific Society for Production Engineering (WGP) not only in research but also in grass ball sports. This year's network meeting with soccer tournament was organized by the Chair of Adaptronics and Functional Lightweight Design at Chemnitz University of Technology. In total, FAPS arrived with a squad of 10 players, which was charmingly diversified by our dear colleague Simone Neermann. This year, 21 teams met in four groups in the preliminary round and played out the group placements in short but intensive matches.
In contrast to previous tournaments, the FAPS team managed to control their respective opponents from the beginning. Each player appeared with the right mindset and the tactics discussed the evening before (simply not conceding a goal) were successfully implemented over long distances. Only against the later final participants, the teams of the WZL of the RWTH Aachen and the University of Bochum, offence was not able to counteract much. The FAPS team finished the group phase in a good 5th place.
In the following decision games the FAPS team achieved 13th place in the overall ranking against strong opponents.
The next morning, an interesting tour of the test field through the facilities of the hosting WGP institute as well as a joint lunch buffet followed by an award ceremony and the presentation of the trophies rounded off the event.
In retrospect – after only four participations – it can be stated that the sporting performance of the FAPS was significantly improved: The FAPS left the tournament with a clean sheet of two victories, three draws and two games lost, and was able to leave more competitors behind compared to last year. This development gives justified reason to hope for the next participations. Another consideration is the possibility of having both a men's and a women's team in the coming year.
More pictures of the event can be found here: Review WGP tournament
Contact:
Department of Mechanical Engineering
Institute for Factory Automation and Production Systems (FAPS, Prof. Franke)

Department of Mechanical Engineering
Institute for Factory Automation and Production Systems (FAPS, Prof. Franke)