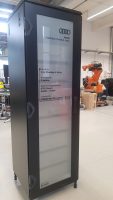 An industry-oriented manufacturing cell is built up at the institute FAPS that is powered exclusively by direct current (DC). The aim of this demonstrator is to integrate renewable energy sources such as solar and wind power directly into the energy circuit of the manufacturing cell. Flexible and adaptable energy management leads to a significant reduction in the energy demand from the utility grid, thus contributing to the energy transition. This concept is already being applied in various sectors of industry – especially in large companies with many electrical motors.
The institute's intention is furthermore to convince SMEs that converting their production to direct current has various advantages. To illustrate these benefits a digital image of the plant was created that takes into account various aspects that can be adapted to the potential customer. Altogether, the independent demonstrator plant offers the possibility to test innovations without stopping production through a comprehensive measurement technology.
We are working with various partners on the construction of the demonstrator. For example, we have succeeded in installing a lithium-ion accumulator in cooperation with AUDI AG and a new type of conveyor belt supplied with 24 V DC in cooperation with elcom. Together with Siemens AG, the entire power electronics are being developed and built.
Many thanks to all cooperation partners for the good, innovative and profitable collaboration.
Contact: