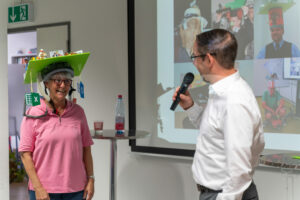 An era comes to an end: Last Friday, we bid farewell to our Gertrud, who spent 26 years (‼) at our department and embodied the institute's kind soul. In April 1997, she was hired as an administrative staff member by Prof. Klaus Feldmann and is now being released into what she aptly calls the "leisure phase" by Prof. Jörg Franke. During her active tenure, she witnessed 89 doctoral defenses, and without her tireless organizational talent, some of our scientific staff might have despaired during their quest for appropriate deadlines. Therefore, rightfully so, she receives from us as a parting gift her Dr. Secretaria degree and the accompanying cap.
Gertrud, we wish you all the best for the upcoming leisure phase, which you so vividly described in your farewell speech with a passage from Vanessa Mai's song "Wolkenfrei":
"Next stop, horizon! Window open, wind in the hair, the GPS set to where I've never been before. The camper van is fueled up, we have everything we need, a tent is our roof, and we are free. So crazy about everything that lies ahead, nothing holding us back, the world belongs to us."
We can hardly put into words how much we will miss you—and this tribute surely doesn't do justice to your time at the department—but we are already looking forward to seeing you again! Whether it's at your bread baking courses, alumni events, or simply for a coffee where you share stories of your travels. We will gladly fulfill your wish to remain in our memories.
Fotos: Christian Voigt