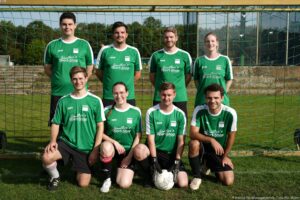 The assistant meeting and networking event for members of the Scientific Society for Production Engineering (WGP) was staged again this year. The event took place at the Institute for Assembly Technology (match) at Leibniz Universität Hannover. As usual, the Chair of FAPS was again able to compete with its own team. The tournament was divided into a main and final round.
The first three points were won against IWT Bremen with a 1:0 victory. This was followed by a 2:0 victory over IfW Stuttgart. In the following match for participation in the final round, the team was narrowly beaten 1:0 by ITA Hannover. In the last group match against iwb Munich, who later came second in the table, we lost 4:0, which is why we entered the small final round as third in the group.
There we first beat WZL Aachen 2:0. Afterwards, we kept the upper hand in the derby against the neighbouring chair LFT Erlangen with 2:0. In the placement match, we met our first opponent again, IWT Bremen, in which we were narrowly beaten 1:0. Nevertheless, the FAPS finished in tenth place out of 20 participants, which is the best final placing in recent tournament years.
Contact:
Department of Mechanical Engineering
Institute for Factory Automation and Production Systems (FAPS, Prof. Franke)