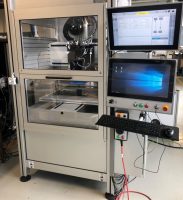 The 15XSA MID manufacturing system combines a wide range of manufacturing technologies with 5-axis motion control to enable the printing of complex 3D structures. The system has a modular design and is therefore ideally suited for a wide range of applications in research and development, prototype construction and product development. The 15XSA opens up the possibility of manufacturing mechatronic systems on injection-molded parts. Alternatively, substrates as well as mechanical functions can also be built generatively by Fused Filament Fabrication (FFF) or dispensing processes. Conductors, sensor structures and antennas can be applied to complex shaped surfaces by means of different printing and dispensing heads. Depending on the printing technology, inks and pastes with viscosities from 1 to 200,000 mPas can be processed and different structure widths between 20 and 1,000 µm can be realized. The printed structures can then be dried or sintered using an infrared system. For the assembly of circuits with surface-mounted devices (SMDs), there is a placement head that can pick up electronic components from a tray by a vacuum pipette and place them on the substrate.
The following manufacturing technologies are available at FAPS:
Fused Filament Fabrication (FFF)
Screw Dispenser
Piezojet
Aerosol Jet
Nanojet
Pick & Place
3D light sintering system
Confocal sensor
Camera
The system is used for a large number of ongoing MID research projects.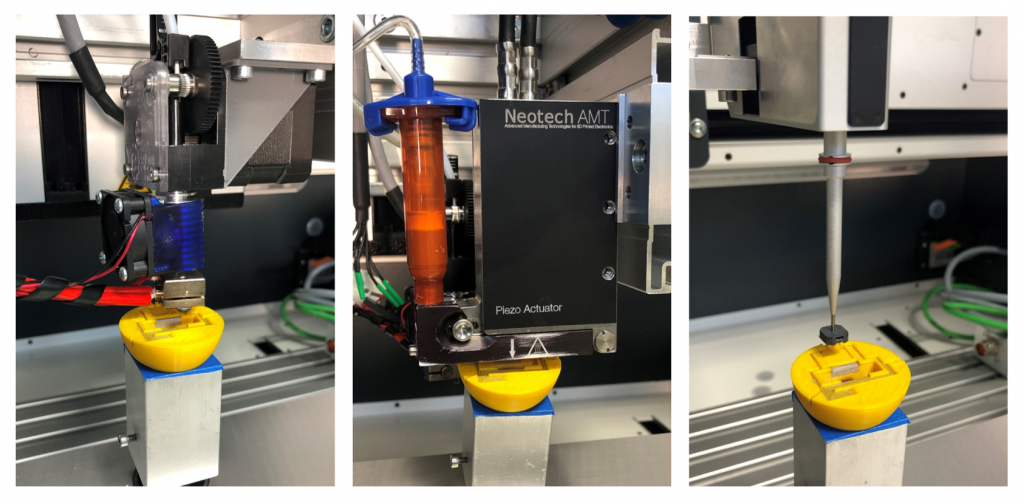 Contact:
Department of Mechanical Engineering
Institute for Factory Automation and Production Systems (FAPS, Prof. Franke)

Department of Mechanical Engineering
Institute for Factory Automation and Production Systems (FAPS, Prof. Franke)