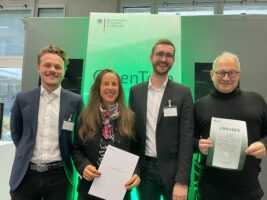 The institute FAPS' research project "ARKIDES" wins funding as part of the Federal Ministryfor Economic Affairs and Climate Action's GreenTech Innovation Competition technology programme. ARKIDES was selected as one of seven projects in the "Sustainability through digital technologies" category.
ARKIDES focuses on an innovative approach to the automated disassembly and separation of electronic components with the help of AI-supported, self-learning disassembly and pre-sorting. The institute FAPS supports the scientific side of the project and focusses on the development of an adaptive system for object recognition for the data-based disassembly of control cabinets. The aim of the programme of the Federal Ministry for Economic Affairs and Climate Protection is to strengthen Germany and Europe as a high-tech location for digital technologies and thus make an important contribution to climate protection.
Patrick Bründl and Felix Funk from the signal sector Signalling and Power Networks took part in the launch event, where not only certificates were presented, but also key aspects of digital and innovation policy were discussed. The President of acatech – National Academy of Science and Engineering spoke about technologies to reduce CO2 emissions and the panel discussion looked at the important role of digitalisation in the green transformation.
In addition, specialist topics were discussed in workshops: the potential of digital technologies to reduce greenhouse gas emissions while increasing competitiveness, the economic exploitation of digital-ecological innovations from R&D projects, the advantages for SMEs in the digital-ecological transformation and life cycle assessment as a trigger for sustainable investment and consumer behaviour.
The institute FAPS is looking forward to working together with the project partners Breit Formenbau KG, Mangelberger Elektrotechnik GmbH and E.Braun on digital solutions for a sustainable future.
Contact: