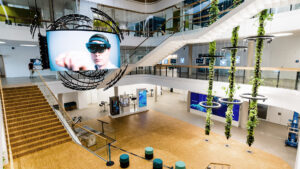 Once again this year, we invite our alumni and active colleagues to the popular FAPS Alumni Networking Event – FANE for short. This year's event will take place at the impressive Siemens The Impulse in Amberg. Just like the successful 40th anniversary of the chair in 2022, more than 100 guests are expected this time.
The event begins on 13.10.2023 for pre-registered participants at 14:00 with a factory tour of the Siemens site in Amberg, where the production of various products essential for manufacturing automation can be seen. Afterwards, all guests can look forward to a socio-technical discourse with drinks and catering, where they can learn the latest from the research areas of the FAPS.
The official welcome and opening will be done by the chair holder Prof. Dr.-Ing. Jörg Franke, thereby simultaneously leading up to the further agenda items. In this context we will be able to welcome some interesting guest speakers during the event, so be curious!
The event will conclude in the foyer of the showbuilding, which promotes close networking among event guests thanks to its inspiring atmosphere.
The specific event agenda will be published here shortly. If you have already seen a version of the agenda, please consider it outdated.
Registration for the FAPS Alumni Networking Event 2023 as well as for the plant tour has now started. Please note: The plant tours will take place with a maximum of 75 people. It pays to be quick!
You will find the password-protected registration form under the following link: FAPS FANE Anmeldung
The password will be sent to you in the official registration email.
Important: If you are a FAPS alumna or alumnus and have not yet received an invitation to the event, please contact us at the following email address: faps.fane@faps.fau.de.
We look forward seeing you there in large numbers!
Your FANE organisation team
Andreas Gründer & Albert Scheck