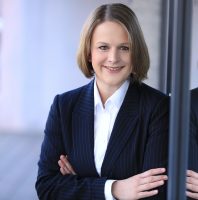 The chair FAPS congratulates Prof. Dr.-Ing. Eva Brandmeier (née Bogner) on her appointment to the University of Applied Sciences Coburg.
Prof. Brandmeier will work at the Faculty of Mechanical and Automotive Engineering in the area of "Self-Learning Machines". The content focus is on the optimization of production and machine manufacturing processes using machine learning methods.
During her time at FAPS from 2015 to 2018, she worked in the research area System Engineering. In the course of a project with SIEMENS lasting several years, she was mainly concerned with the topics Industry 4.0 and Digitization in Production. Most recently, she continued these topics in industry by supervising the introduction of new IT systems in production at the automotive supplier Samvardhana Motherson Innovative Autosystems (SMIA).
FAPS welcomes the cooperation and wishes the alumna every success in implementing her ideas!
Contact: