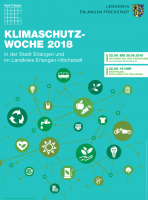 From 22 to 29 September 2018, the Climate Protection Week 2018 took place in the city of Erlangen and in the district of Erlangen-Höchstadt. In the course of this week, numerous events were organized at various locations in the district, which were dedicated to holistic climate protection and education. From exhibitions, sales stands and shows to workshops and specialist lectures, citizens were able to find out about current initiatives and solutions. A wide variety of topics were covered, such as the efficient use of limited resources, renewable energies, waste management, food waste and climate-friendly nutrition.
The FAPS chair also took part in an event organised by Prof. Dr. Martin Hundhausen at Schlossplatz in Erlangen, where current projects and findings from research in the fields of electromobility and energy system reorientation were presented. In particular, the contributions of the joint projects Green Factory Bavaria and the E|Home Center for an efficient and future-oriented use of resources were exhibited.
The Startup Sentinum, affiliated to FAPS, presented its solutions for dealing with the consequences of climate change. Sentinum's widely distributed and energy-autonomous sensor nodes allow early warnings to be issued at critical locations, for example in the event of forest fires or flooding. Sentinum also presented its system for optimizing logistics processes in cities. In the future, for example, grit boxes of municipal winter services will be equipped with sensors that can be read out via a web application. This leads to increased transparency in everyday work processes. This not only conserves resources, but also prevents unnecessary emissions.
Contact: