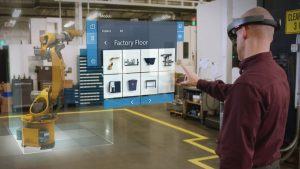 For the chair FAPS the HoloLens 2 – Immersive Mixed-Reality-Smartglasses – from Microsoft could be procured. The HoloLens 2 is suitable for immersive, professional, industrial applications and offers a comfortable (weight of 566 g) mixed reality experience with industry-leading solutions that add value in minutes – all enhanced by the reliability, security and scalability of Microsoft's cloud and AI services. For better human comprehension, HoloLens 2 includes hand tracking, eye tracking, iris recognition and voice control, among other features. Four cameras for visible light, a 1-MP Time-of-Flight (ToF) depth sensor, accelerometer, gyroscope and magnetometer can be used to capture and interact with the environment.
The HoloLens 2 complements the XR systems available at the chair with another interesting and industry-relevant solution for direct communication and interaction with people and the digital world. With a price of about 4000€ a powerful and professional complete system will be purchased. This is to be used, among other things, within the framework of the ROBOTOP project for the presentation of engineering best practices and for the configuration of robot-based automation solutions in the direct industrial environment.
Contact:
We could not find any entry with the given search term 218.