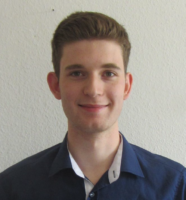 From 22.05.2023 onwards, Simon Lamprecht reinforces the research area Wiring Systems as Research Master.
Mr. Lamprecht completed his Bachelor studies in Mechatronics at Friedrich-Alexander-Universität Erlangen-Nürnberg and is currently studying his Master Studies in Mechatronics. Within his Bachelor studies, he has supported FAPS in his Bachelor Thesis regarding the development and validation of a mechatronic tensegrity wrist for soft robotic systems. Currently, he is working as student assistant in the research area Wiring Systems and investigates the automated insertion of cables using a robot. In his Master Thesis, he will work on the conception and application of Computer Vision for position recognition of cable ends in a three-dimensional room.
After finalizing his Master Thesis, Mr. Lamprecht will work on the research project Next2OEM which aims at the pushing of digitalisation and automation of the value chain for wiring systems in order to enable backsourcing of wire harness production to Germany.
Contact: