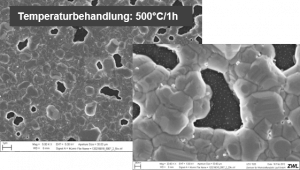 Alternative densification processes for digital printed nanoparticular inks used to produce planar MID
Various dispersions based on nanoscale metal particles such as silver or copper are currently used for additive printing processes in electronics production. The requested electrical conductivity as well as the crosslinking of the layers is achieved by the drying of the inks, the degassing of the solvents and the subsequent densification of the particles. The established densification process by means of convection (oven process) is limited because of a thermal load on many substrates and a long process time. The aim of the research project is to investigate and optimize alternative densification methods, such as photonic exposure or selective laser irradiation, in order to show possible alternatives to the standard process and to establish them permanently.
Cou can find more information on the Project Page AVerdi.

Contact:
M.Sc. Simone Neermann