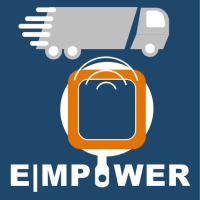 Institute FAPS is the consortium leader of the recently joint research project E|MPOWER with the partners VIA IMC, Electreon, Risomat and TH-Nürnberg. The project is funded by the German Federal Ministry for Economic Affairs and Climate Action, funding code 01MV22020A as part of the "Elektro-Mobil" program and supported by the German Autobahn GmbH. It includes integrating Electreons wireless Electric Road System (ERS) technology on a 1-km section of the Autobahn in Northern Bavaria. This ERS is an inductive charging technology that is directly integrated into the roadway enabling the contactless transfer of energy to driving and stationary vehicles.
"The E|MPOWER project is the next important step in bringing inductive electric vehicle charging technology closer to the general public and positioning Germany as a leader in the field of production technology. The project can seamlessly build on the findings of the successfully completed project E|ProFIL as well as the ongoing project E|ROAD, both also coordinated by the Institute FAPS."
Prof. Dr.-Ing. Jörg Franke
"The E|MPOWER project is a major step toward decarbonizing transportation in Germany and, ultimately, the world."
Dr. Andreas Wendt, CEO, Electreon Germany GmbH.
For Electron the project is following the successful construction of the first inductive solution in Karlsruhe in 2021 and will showcase it in a larger scale. Together with the Institute FAPS, Nuremberg Institute of Technology, Risomat GmbH Co.KG and VIA IMC GmbH we are teaming up to enhance the scalability of ERS.
"We are proud to contribute our expertise in the simulation of electromagnetic fields and power measurement technology to enhance the E|MPOWER project together with innovative partners."
Prof. Dr.-Ing. Armin Dietz, Head of the ELSYS Institute at the Technische Hochschule Nürnberg
"After the successful demonstration in Karlsruhe and the eCharge Project, this project is the next step to go forward with ERS in Europe. The E|MPOWER project will position us to deploy the system on a large scale. We are pleased with the partnership with Electreon."
Dr. Dirk Ebersbach, Innovation director Eurovia Germany and CEO of VIA IMC
"Charging infrastructure will be one of the most important needs for a successful shift toward electric mobility–we are happy to support the E|MPOWER project with our experience."
Christian Halder, Deputy CEO Risomat GmbH & Co.KG
"Autobahn GmbH is responsible for the expansion of the static fast-charging infrastructure along the highway and is implementing the corresponding measures here. In addition, activities in the areas of dynamic charging infrastructure are being pursued and backed up with practical experience. Therefore, the Northern Bavaria branch of Autobahn GmbH, together with a regional university and other partners, is pleased to test forward-looking technologies in the field of inductive charging in the highway network."
Rüdiger Ziener, Autobahn GmbH des Bundes, Niederlassung Nordbayern
The E|MPOWER project with a total finacial volume of over € 7.5 million started in July 2022 and is administratively accompanied by the DLR Project Management Agency.
Contact:
Department of Mechanical Engineering
Institute for Factory Automation and Production Systems (FAPS, Prof. Franke)