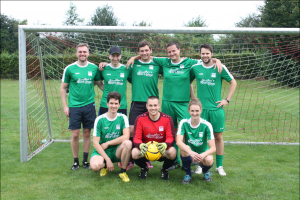 For the second time only – but already now in a tradition that has become dear to us – the soccer team of the FAPS chair took part in the soccer tournament of the Scientific Society for Production Engineering (WGP), this time organized by the IWF Braunschweig. In comparison to last year's participation (10 players), only a reduced squad (8 players) participated, however, strongly supported by the (foot)ball power of our colleague Simone Neermann and under the competent guidance of our captain Thomas Reitberger. The 17 teams of the research institutes met in three groups in the preliminary round and played in short (14 minutes per game) but very intense games to determine the group rankings.
Unfortunately, the FAPS team was unable to win any of the preliminary round matches, despite the correct mindset, a tactics session held the evening before and the clearly premature arrival at the venue (to get to know the conditions and the pitch). Apart from the initially bad weather and the resulting difficult field conditions, attack and defence alternated in their roles as "performers", so that the team in green either did not score a goal themselves or received quite a few goals. The FAPS team finished the group phase in last place.
In the further course of the tournament, this year's tournament winner (ISF Dortmund) was determined among the group winners. For the FAPS players, however, the sporting event was not yet over: Together with the ISW Stuttgart and the IFW Hanover they fought for the last places. Here the FAPS succeeded by a show of strength of the whole team, supported by noble fans from Stuttgart, to defeat the team of the IFW Hanover with a 0:1 trembling over time and thus to finish the tournament even with the 15th place (goal ratio makes it possible).
The tournament winners and all other teams as well as the own brilliant victory were duly celebrated during the evening networking in the Gewandhaus in downtown Braunschweig. The next morning, an interesting tour of the test field through the facilities of the hosting WGP institute as well as a barbecue followed by an award ceremony and the presentation of the trophies rounded off the event.
In retrospect – after only two participations – an upward trend can already be seen: The FAPS left the tournament with four times as many goals scored and was able to leave twice as many competitors behind compared to last year. And all this was achieved despite a smaller squad. This development gives reason to hope for the next participations. The team training has already been resumed in order to even surpass the solid result next year.
Contact: