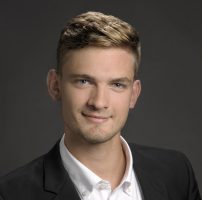 The Engineering-Systems Department welcomes a new employee as of 15 August 2021.
Marvin Schobert studied mechatronics in both his Bachelor's and Master's degrees at FAU. He successfully completed his Master's by writing a thesis at FAPS entitled "Development and implementation of a microservice-based architecture for process-oriented planning and configuration of robot-based automation solutions", which was also nominated for the VDMA Young Talent Award Digitalisation in Mechanical Engineering 2021 ("VDMA Nachwuchspreis Digitalisierung im Maschinenbau 2021").
Mr. Schobert will be working on business process automation, multi-user VR applications and AI support in engineering at the chair as part of the PDA-RobE research project together with the companies Conti Temic and exentra. He is also in close contact with the start-up ROBOTOP, which was recently spun out by FAPS.
We are looking forward to a great collaboration!
Contact: