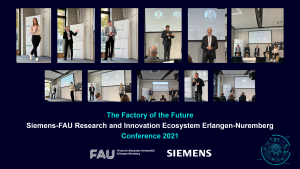 The annual event of the Siemens Research and Innovation Ecosystem (RIE) and the Friedrich-Alexander-Universität Erlangen-Nuremberg took place this year as part of a hybrid event series. The event was themed "Factory of the Future" and was held with great involvement of the FAPS.
As a prelude, the chair FAPS started on October 14, 2021 with a fully digital Virtual Lab Tour. In addition to the presentation of the chair by Prof. Dr.-Ing. Jörg Franke, research projects were presented as project pitches and current research topics were shown with demonstrators in the laboratory hall in Erlangen. The four pitches addressed the following heterogeneous topics:
Digital platforms in the manufacturing industry
Simulation of industrial communication networks during the planning phase
End to end Data Integration for Additive Manufacturing
In situ identification of material batches in metal machining
The streamed tour through the laboratory hall in Erlangen focused on demonstrators of the robotics research area. In this context, live demonstrations were provided of an autonomous delivery process with a flying robot, an Automated Guided Vehicle for indoor and outdoor use, and the handling of a robotic system for the disposal of radioactive waste that can be controlled via a VR system. The livestream achieved a high level of attention and was already accessed over 400 times within.
As a highlight of the event series, the RIE Conference took place in a hybrid format at JOSPEHS® in Nuremberg on October 22, 2021. Prestigious speakers gave exciting insights into new technologies for the manufacturing industry and for the design of the factory of the future. After the opening by Dr. Roland Busch, CEO of Siemens AG, and Professor Joachim Hornegger, President of FAU Erlangen-Nürnberg, Professor Jörg Franke addressed the topic of "Smart Manufacturing – Digital Platforms" in his keynote. In his presentation, he outlined the success of digital platforms in the consumer sector (Facebook, Apple, Amazon, etc.) and at the same time referred to the challenges of B2B platforms in the manufacturing sector. At this point, he motivated the approach of decentralized, Blockchain-based data management to establish trustworthy data storage and sharing. In the further keynotes and discussion contributions, the aspects of data analytics, future services and cybersecurity in a factory of the future were furthermore addressed with illustrative examples.
In addition, the EXIST-funded FAPS-X startup ROBOTOP had the opportunity to present itself at the RIE Conference 2021. Also Siemens CEO Dr. Roland Busch and FAU President Prof. Joachim Hornegger were among the visitors to the ROBOTOP booth. After the ROBOTOP pitch by Dr.-Ing. Eike Schäffer, attendees had the opportunity to experience a VR robotics training session and to discuss future collaborations with the ROBOTOP founding team.
The successful event was able to reach a large audience with over 700 online participants. More information about Siemens RIE and FAU's cooperation with Siemens can be found at https://ecosystem.siemens.com/topic/detail/initiative/254/overview.
Contact: