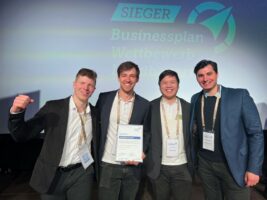 The ROBOTOP GmbH – founding team (Dr. Eike Wolfram Schäffer, Baris Erdönmez, Tony Phan, Nicolas Falbesaner) was awarded in the first phase of the business plan competition Northern Bavaria by BayStartUP as one of the best business ideas from Franconia and the Upper Palatinate. The jury had more than 80 applications to review and finally decided among others for the promising concept of ROBOTOP GmbH. ROBOTOP GmbH is a spin-off of the chair FAPS or the research project of the same name ROBOTOP, which was carried out very successfully under the leadership of Dr. Eike Schäffer from 2017-2020 at the chair FAPS.
The award is a recognition of the hard work and dedication of the team, which aims to help shape the future of robotics, automation and digitalization. ROBOTOP, based in Nuremberg, Germany, enables providers of machinery, equipment and automation solutions to create personalized and interactive digital customer experiences. The 3D/XR sales solution enables technical sales teams to create and share 3D solution concepts and present complex products through interactive AR scenes, among other things.
Dr. Eike Schäffer and Baris Erdönmez, as co-founders of ROBOTOP GmbH, are very pleased about the award: "We are very proud that our concept was selected by the jury as one of the most promising business ideas. This award encourages us in our plan and motivates us to keep working hard."
The next phase of the competition is now coming up and ROBOTOP is confident to convince with their innovative idea here as well. The chair FAPS wishes the team of ROBOTOP much success on their way to realize their vision!
Contact: