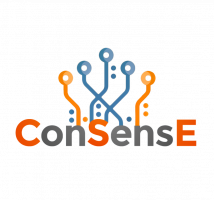 As part of the funding measure "Beherrschung der Komplexität soziotechnischer Systeme – Ein Beitrag zum Advanced Systems Engineering für die Wertschöpfung von morgen (PDA_ASE)", the German Federal Ministry of Education and Research (BMBF) is funding the research project "Advanced Systems Configuration for Complexity-Reduced Sensor-Driven Development of Production Systems in the Digital Age (ConSensE)", which is being supported by the Karlsruhe Project Management Agency (PTKA) and will start on March 1, 2021.
The aim of the research project is to develop a platform-based assistance system for matching sensor solutions with digital business models, which will enable plant developers to identify user-centric requirements already during the planning phase. In addition, stakeholders such as plant and sensor developers can use this tool to develop and offer data-driven services as a complement to their hardware product. In addition to the development of new products, this assistance system is also intended to open up extended functionalities for new service-based business models in the retrofit of existing plants.
In addition to the Institute for Factory Automation and Production Systems (FAPS) at Friedrich-Alexander-Universität Erlangen-Nürnberg (FAU) and the Institute for Information Systems – Innovation & Value Creation (Wi1), also at FAU, the consortium of eleven funded partners also includes the Center for Leading Innovation & Cooperation (CLIC) at Leipzig Graduate School of Management, the Chair of Work Science and Innovation Management at TU Chemnitz, N+P Innovationssysteme GmbH, SITEC Industrietechnologie GmbH, in.hub GmbH, Digital Impacts Lab Leipzig GmbH, Vitesco Technologies GmbH, Wiewald GmbH, and WMS Werkzeugmaschinen-Service GmbH. In addition, the project is supported by the five associated partners Audi AG, NILES-SIMMONS Industrieanlagen GmbH, OSL – Open Service Lab, SupraTix GmbH and XENON Automatisierungstechnik GmbH.
Contact: