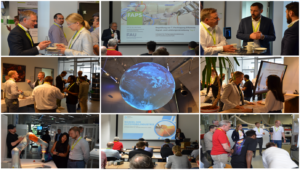 On July 5 and 6, the chair FAPS invited to the 7th symposium "Efficient Signal and Power Networking" in its research factory in Nuremberg.
Within the scope of the event, current developments in the wiring system industry, control cabinet construction and at the associated technology and equipment suppliers were discussed and the cross-industry exchange was promoted by exciting lectures.
The symposium has established itself as a platform to bring together related industries and has shown that there is a great need for the exchange of knowledge and experience. Networking in particular enabled valuable contacts to be made for innovative ideas, future projects as well as close collaborations. Thanks to the cross-industry dialog and the different impulses from practice and science, it was possible to identify trends, recognize potential and envisage initial ideas for concrete joint research activities.
The consistently positive feedback confirms that the conference is the right focus for us to drive innovation in the field of signal and power networking and increase efficiency along the entire value chain.
The research area Signal and Power Networking would like to thank all speakers and participants for the inspiring two days and is looking forward to welcoming you again next year.
Contact:
Department Maschinenbau (MB)
Lehrstuhl für Fertigungsautomatisierung und Produktionssystematik (FAPS, Prof. Franke)