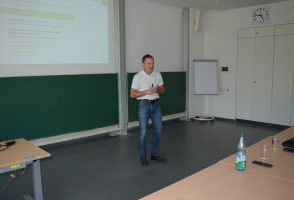 In 2018, the Institute of Manufacturing Automation and Production Systems invited its former and active employees to the annual alumni meeting, the FAPS Alumni Networking Event. After the informative and committed presentation of the eleven technology fields of the institute, Professor Franke gave a comprehensive overview of the current and future developments of the University of Erlangen-Nuremberg and the institute FAPS for the more than 100 participants, 60 of them alumni. Afterwards, Dr. Brand presented an exciting key note speech on the restructuring of a globally operating car supplier. Finally, the numerous guests took advantage of the small standing reception for an intensive professional and personal exchange among themselves and with the active employees. The Institute FAPS would like to take this opportunity to thank all guests and is looking forward to participating again in 2019.
Contact:
Department of Mechanical Engineering
Institute for Factory Automation and Production Systems (FAPS, Prof. Franke)

We could not find any entry with the given search term 246.