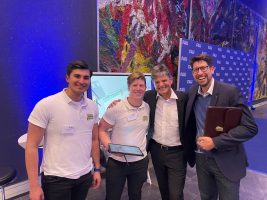 The FAPS start-up ROBOTOP was represented as an exhibitor at the Dies Academicus 2022 with Dr. Eike Wolfram Schäffer and Baris Erdönmez as one of three selected FAU showcase start-ups.
With the three selected research-based start-ups, which were represented at the Dies Academicus 2022 of the Friedrich-Alexander-Universität Erlangen-Nürnberg with their booth at the Start-up Lounge, FAU was once again able to underline its innovative strength (#1innovator).
In addition to an impressive supporting program with numerous presentations and prominent guests such as the Bavarian Prime Minister Markus Söder, the event offered a nice setting for casual networking. Among others, ROBOTOP had the opportunity for an exciting exchange with FAU President Joachim Hornegger as well as the Managing Director of EIT Health Kurt Höller.
More information and updates about ROBOTOP at: ROBOTOP@LinkedIN and www.robotop.de
Contact: