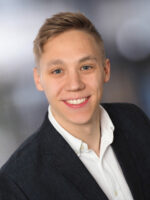 Christopher Sowinski joins the Research Department Robotics as a research associate on October 01, 2023.
He completed the bachelor's and master's degrees in Physics at Friedrich-Alexander-Universität Erlangen-Nürnberg.
In his master's thesis he focused on the quality control of microscopic gratings for X-ray phase-contrast imaging as well as algorithms for the reconstruction of the different image modalities.
Within the scope of his work, Mr. Sowinski will support the research project TAQO-PAM, which focuses on the optimization problems of real industrial scenarios und the possibility of accelerating optimization algorithms with the help of quantum computing.
Contact:
Department of Mechanical Engineering
Institute for Factory Automation and Production Systems (FAPS)