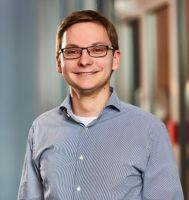 Benedikt Martens will strengthen the research sector Automated Production Systems as an external research assistant as of August 1, 2019.
He completed his Bachelor's degree in Electrical Engineering and Information Technology and his Master's degree in Applied Research at the OTH Amberg-Weiden.
Within the scope of his research at Siemens and at the chair FAPS, Mr. Martens is engaged in data-driven decision systems for software development processes.
The main task is to make development processes transparent from function planning to customer deployment. Various technologies are used to support developers and managers in particularly important decisions.
Contact: