Around 100,000 employees in the Nuremberg Metropolitan Region work for suppliers of the automotive industry. Many of the jobs depend on the combustion engine and are endangered by the transformation of the industry. The large-scale project transform_EMN with a volume of 6.6 million euros supports companies, among other things, in the development of new business ideas and technology transfer.
The FAPS is responsible for setting up and operating the innovation platform "Transformation-oriented Production – Sustainable and Digital Manufacturing". Participating SMEs from the automotive and supplier industry are given the opportunity to test technologies for digital, energy-efficient and climate-friendly production, to develop these further together with scientists from the participating research institution, and to demonstrate the production capabilities gained. Based on these experiences, the chair develops and disseminates a variety of qualification offers and consulting measures.
In the context of the digitalization of production, the chair is developing needs-based solutions for the local supplier industry. In order to achieve a cost-efficient and low-threshold entry, the use of open-source software and modern cloud technologies is to be promoted in particular. The focus will be on the derivation of suitable data models, the investigation of state-of-the-art communication technologies and the demonstration of artificial intelligence methods. In the context of systematic intelligence enhancement, the knowledge gained will be demonstrated in practice on innovative production systems.
The second in-depth topic is the conversion to sustainable and CO2-neutral production. The design of sustainable and intelligent energy distribution architectures for production sites as well as the integration of decentralized, regenerative generators and storage systems both from a hardware perspective and the intelligent coupling and transfer to an "Industrie 4.0"-compliant energy management play an essential role here. Efficient direct current grids should be mentioned as a special solution concept.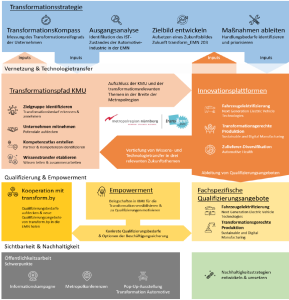 Project partners:
Nuremberg Metropolitan Region, Nuremberg Chamber of Industry and Commerce, Fraunhofer Institute IISB, IMU Institute, Nuremberg City Economic Development Department
Duration:
01.07.2022 until 30.06.2025

Funding program:
Regional Transformation Networks Vehicle and Supplier Industry of the Federal Ministry for Economic Affairs and Climate Protection (BMWK) – Regional Transformation Networks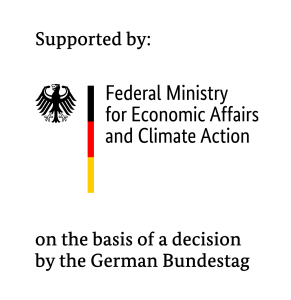 Contact:
Department of Mechanical Engineering
Institute for Factory Automation and Production Systems (FAPS, Prof. Franke)

Department of Mechanical Engineering
Institute for Factory Automation and Production Systems (FAPS)