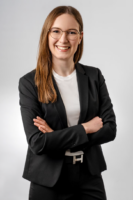 Anja Preitschaft joined the research department Electromechanical Engineering as a research associate as of June 01, 2023.
Ms. Preitschaft completed a dual bachelor's degree in electrical engineering and information technology at the Ostbayerische Technische Hochschule Regensburg in combination with an IHK apprenticeship as an electronics technician for industrial engineering at Krones AG. She then pursued a master's degree in Robotics, Cognition, Intelligence at the Technical University of Munich, while working as a student assistant in automotive software engineering at Vector Informatik GmbH. In her master's thesis, she developed a data-driven artificial intelligence for situation awareness in commercial vehicles in cooperation with MAN Truck & Bus SE.
Her future research work will focus on the development and application of artificial intelligence methods in the context of electric drive production.
Contact:
Institute for Factory Automation and Production Systems (FAPS, Prof. Franke)
Department of Mechanical Engineering