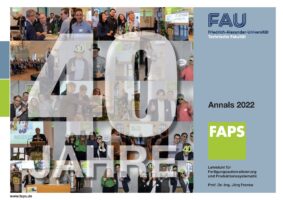 For the Institute for Factory Automation and Production Systems the year 2022 was full of fascinating and insightful highlights, a variety of new research projects, interesting partnerships, young spin-off companies as well as deserved awards accompanied us throughout the year.
With our annual report, the FAPS Annals 2022, we want to give all of the institute's friends, supporters and cooperation partners as well as alumni and staff an interesting and entertaining read.
FAPS wishes all our readers much pleasure in browsing our review on the year 2022 – for further information or suggestions do not hesitate to contact us.
You can download the digital version of the annual report here.
Contact:
Department of Mechanical Engineering
Institute for Factory Automation and Production Systems (FAPS, Prof. Franke)