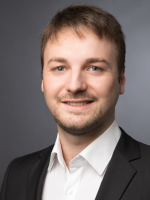 Alexander Müller joined the research sector automation technology at the chair FAPS as research associate on 01.02.2023.
After the completion of his professional training as an associate engineer for computer systems and automation technology and a subsequent professional activity as a software developer for HMI-applications for the metallurgical industry, he completed both the bachelor's and master's programs in industrial engineering and management at the Friedrich-Alexander-University Erlangen-Nuremberg.
Mr. Müller already supported the research of the chair within his bachelor's and master's thesis.
In the context of his research work, Mr. Müller will investigate the potential of artificial intelligence for production in cooperation with Carl Zeiss Vision.
Contact:
Department of Mechanical Engineering
Institute for Factory Automation and Production Systems (FAPS, Prof. Franke)