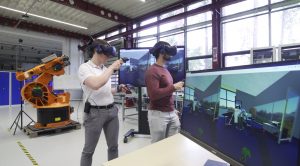 Manufacturer
High Tech Computer Corporation (HTC)
Scope
The HTC VIVE Pro is one of the technologically leading VR headsets suitable for professional, industrial applications. The HTC VIVE Pro convinces with its precise room tracking, a control of the scene by head and hand movements in combination with high performance technical data. It is possible to move freely in a room of up to 10m x 10m using the wireless equipment and to integrate further elements into the digital world using additional trackers.

Hardware properties:

Resolution: 1440 x 1600 pixels per eye (2880 x 1600 pixels together)
Refresh rate: 90 Hz
Field of view: 110 degrees
Integrated Audio: Hi-Res certified headset
Maximum room size: 10m x 10m
Sensors: SteamVR Tracking 2.0

Further information
https://www.vive.com/de/product/vive-pro-full-kit/
Contact:
We could not find any entry with the given search term 218.